Hi guys, I'm Thelalaloopsygirl, I'm brand new and just came out of my box. I'm a Voodoo Lalaloopsy doll, by the way. So, as soon as I came out of my box, I rushed into and around the doll house, collecting buttons. I went into the doll house, got out a sewing box, opened it up, and got cotton, fabric, a needle, a thread, and a thimble. I went into the living room, sat on the couch, and began sewing. A few hours later, I was done. I made a tiny doll of me.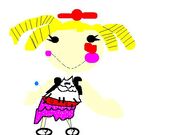 Ad blocker interference detected!
Wikia is a free-to-use site that makes money from advertising. We have a modified experience for viewers using ad blockers

Wikia is not accessible if you've made further modifications. Remove the custom ad blocker rule(s) and the page will load as expected.